Guernsey celebrates 70th anniversary of Liberation Day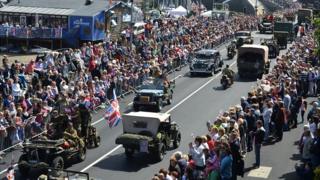 Thousands of islanders have turned out on the streets of Guernsey to celebrate the 70th anniversary of its liberation from Hitler's occupying forces.
Her Royal Highness, the Countess of Wessex, visited the island to mark the occasion.
Events including an outdoor church service and cavalcade took place across the island all day.
A military parade commanded by retired Major Bob Place MBE marched to Footes Lane for the outdoor church service.
The countess delivered a message to the congregation on behalf of the Queen.
She said: "On this significant anniversary my thoughts and prayers are with you and for the future happiness and prosperity of the Bailiwick of Guernsey."
Guernsey's Lieutenant-Governor Air Marshal Peter Walker said: "For a lot of people who are now in the twilight of their years, this is very, very significant to them and it's important that we recognise the sacrifices that they went through."
During her visit the Countess unveiled a special 70th anniversary memorial stone at the Weighbridge roundabout and spent time speaking to islanders.
She said: "There are many who are no longer with us and it is to their memory we dedicate these celebrations."
The Bailiff Sir Richard Collas said "it was a chance to remember and commemorate the hardships of the wartime years".
Thousands of people lined St Peter Port's seafront to watch the largest cavalcade in recent years - among them was JJ Paes who described it as "fantastic, the colours, the vehicles, the dancers, the whole shebang was excellent".
Due to high winds a flypast by the Dakota from the Battle of Britain Memorial Flight was delayed and a parachute drop by the Princess of Wales Royal Regiment was cancelled.