Guernsey's equal pay progress is 'painfully slow'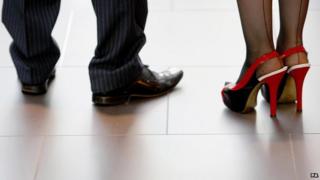 Guernsey politicians have criticised the lack of progress made on equal pay, despite it being earmarked as a top priority by the States.
Deputies Yvonne Burford and Heidi Soulsby have called for the introduction of equal pay legislation.
They said the progress since 2007 has "been painfully slow" and it was a "no-win situation" for women.
The Policy Council said legislation is in place to prevent pay discrimination based on gender.
Since 2007, the Policy Council's main equalities priority has been signing up to the Convention on the Elimination of all Forms of Discrimination Against Women, which includes the right to equal pay for work of equal value.
Deputy Yvonne Burford described progress as "painfully slow", while Deputy Heidi Soulsby said: "Studies have shown that women are far less good at asking for a pay rise and when they do they're considered aggressive so it's a no-win situation.
"We need to show our determination to believe equal pay is what should happen".
---
Equal Pay
Unlike the UK, Guernsey does not have an Equal Pay Act
The UK legislation came into effect in 1970 and allows employees to claim back pay and interest for up to six years from the date the claim was lodged
If employees in Guernsey find they are being paid less than colleagues doing the same job they are only entitled to make a claim for three months of their salary
In Guernsey the median earnings of male employees last year was £33,280 and £27,040 for women
---
Local employment lawyer, Jessica Rowland, said "the downside of being involved in litigation against your employer is it doesn't make you a very popular employee".
She said "it's not good" for CVs and believed Guernsey could "cut and paste" laws already used in the UK.
Guernsey's Women's Development Forum said more than twice the number of men than women have jobs paying more than £70,000 a year.
Chairwoman, Michelle Johansen, said Guernsey is "not optimising the female talent on the island" and thought women are still "not occupying seats around the board table".
Chief Minister Jonathan Le Tocq, Chair of the Policy Council's Social Policy Group, said Guernsey's sex discrimination legislation "prohibits discrimination on the grounds of gender".
"Practical examples include preventing discrimination on the basis of sex and gender on pay."