St Peter Port is cheapest for exporting Guernsey's waste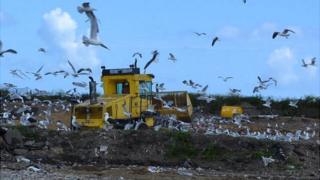 Guernsey's waste will be shipped from St Peter Port after a review found it was the cheapest export option.
Public Services had proposed to transfer waste to a new storage building at Northside, Vale, before shipping it from St Sampson's Harbour.
Under the new plan, between 20,000 and 25,000 tonnes of the island's waste will be exported from 2017.
Eighteen companies have expressed an interest in the contract. The closing date for submissions is 1 June.
The decision to move to St Peter Port came after discussions with the groups planning to bid for the transportation contract.
A transfer station is planned at Longue Hougue to extract metals from household and commercial waste and prepare it for shipping in bales.
The material will then be transferred to St Peter Port Harbour, for onward shipment to the chosen destination plant for processing.