Guernsey's Petit Port steps reopen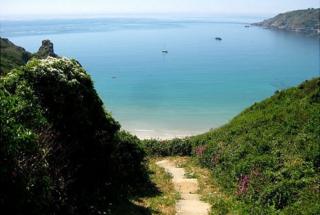 Steps to a bay on the south coast of Guernsey have been reopened after being closed for more than a year.
The only land access to Petit Port Bay was closed last May after the cliff face was badly damaged by winter storms.
The Environment Department said it had now completed its safety work to protect the public from falling rocks.
Environment Minister Yvonne Burford warned new ways to fund the annual maintenance were needed for the future.
She said: "Petit Port continues to take up a disproportionate amount of our cliffs and coastal budget, at the expense of other places.
"We will be continuing to work with the constables of St Martins to see if we can find a way forward to maintain access to this special bay."
The department said over the past 10 years maintenance costs have averaged £77,000 pounds a year.
Gerry Tattersall, St Martin's constable, suggested nature should be left to take its course, but the steps should remain open and people should be warned of the dangers.