Guernsey States bids to axe 'marriage' for Union Civile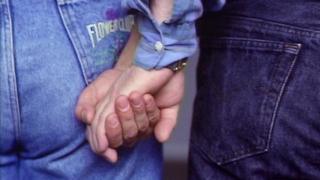 The term "marriage" could be scrapped if a "Union Civile" law is approved in Guernsey.
The law would allow people to enter into legally-recognised civil unions and remove links to religion.
A public consultation into the issue, which will be debated in the autumn, has been launched by the States.
It wants a "clear separation between the state and religion" and is "concerned about the connotations" of using the word "marriage".
As part of the plans, the States also want to remove adultery as a reason in legal proceedings for the breakdown of a relationship.
'Modernise legislation'
Guernsey's Chief Minister Jonathan Le Tocq said: "Matters such as sexuality and religion should not be the concern of government, however we do have to protect human rights.
"Guernsey needs to modernise its legislation so that all couples, whether same sex or opposite sex, religious or not, can have their relationship legally recognised by the state."
---
Union Civile explained:
It would legally recognise the partnerships between two people, whether they were the same-sex or opposite-sex
The Policy Council wants it to be the only statutorily recognised form of partnership replacing the current arrangements for civil marriage
Everyone wishing to undertake a religious marriage would also need to have a Union Civile either at the same time or before the religious marriage, so that their partnership could be legally recognised
The States believe the Union Civile will provide a clear separation between the religious requirements and those of the state for recognising a partnership between two people
Any proposed legislation changes will only be for Guernsey, Herm, Jethou and Lihou and will not cover Alderney, Sark or Brecqhou
---
Martin Gavet, chair of Channel Islands equality charity Liberate, said: "This is significant progress towards our island becoming a fair and equal society, where everyone is treated equally in both dignity and rights."