Guernsey fishermen banned from EU and UK waters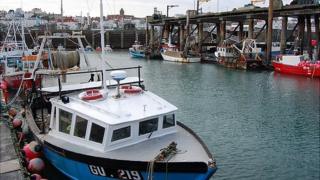 The UK government is suspending a fishing agreement with the Bailiwick of Guernsey over a lack of limits on how much produce local fishermen can land.
The Fisheries Management Agreement means all commercial fishing within the Bailiwick's 12 nautical miles (nm) has to be licensed.
It also means Bailiwick vessels need licences to fish in EU and UK waters.
However, the lack of a quota policy has led to the UK suspending licences held by Bailiwick vessels from Saturday.
This decision does not prevent any Bailiwick fishermen from continuing to fish in local waters in accordance with their licences, but does prevent Bailiwick vessels from fishing in EU waters, which includes those of the UK.
Guernsey's Commerce and Employment Department said it was "surprised and shocked at the short notice and lack of consultation".
It said George Eustice MP, UK Fisheries Minister, explained the move was in response to the States of Guernsey's policy of not applying UK quota controls to Bailiwick vessels in Bailiwick waters in accordance with the FMA.
The BBC has approached the Department for Environment, Food and Rural Affairs for comment.
The Commerce and Employment department said not applying the UK quotas had been agreed in the Fisheries Management Agreement. It warned the imposition of the quotas could make many island fishing businesses "unviable".
Minister Kevin Stewart said: "This decision by the minister of state has come out of the blue.
"Commerce and Employment is working with the fishing industry to ensure that its interests are robustly represented, at the same time as continuing to protect Bailiwick waters as a sustainable fishery."
He said his department was waiting for details of the suspension before any decision would be taken on banning licensed UK fishermen from Bailiwick waters.
Mr Stewart said: "[The decision] does not mean a free-for-all in our fishing grounds."
The department said a briefing for the Bailiwick-wide fishing industry was being organised for next week.
---
Fisheries Management Agreement
The licensing law came into force on 1 February 2013
Previously only the three nautical mile limit was controlled, with fishing between 3-12nm - an area about 1,000 sq nm of sea - had been unregulated since 2007
Anyone wanting to fish commercially within 12 nautical miles (nm) around the Bailiwick - Guernsey, Alderney and Sark - has to be licensed
Those fishing unlicensed can face fines of several thousand pounds as well as the seizure of their catch
---