Bid to restore Guernsey Bathing Pools at La Vallette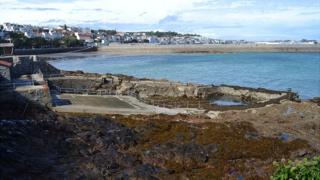 A group has formed with the aim of restoring the Guernsey Bathing Pools and the area at La Vallette.
The pools were heavily damaged in storms in February 2014 and the men's pool and horseshoe remain closed, with repairs expected to cost £200,000.
As well as repairing the pools the group wants to restore viewpoints and reopen the Victorian changing rooms.
The chairman of the Legacy Team Committee Pat Johnson said: "We'd like to put it back to its former glory."
He warned the area was "going to get ugly before it gets beautiful".
Speaking about the cost, treasurer Andrew Pouteaux said: "We don't know, we've got our estimate... but in essence the more people turn out the more volunteers we get the less it costs.
"The swimming pools come at the end and that's the one with the big capital involvement... probably until next spring we won't see big improvements on the pools."
He said the group had formed because "if we don't get to grips with it we lose it".
The group said it has the support of two States departments - Environment and Culture and Leisure - the St Peter Port Douzaine, tourism and private sponsors.
---
History of the Bathing Pools
Initially called Les Promenades des Terres the original idea was for the walkway to go further around the coast, but it was shortened over security concerns at Fort George
In 1844 the first plans were put forward to build bathing places to replace those due to be lost in the expansion of St Peter Port Harbour
In 1859 permission was given to make a promenade to Clarence Battery using infill from the harbour, with the work funded by public subscription, the parish and the Royal Court
The horseshoe bathing place was built in 1859, ladies' pool in 1870 and a separate gent's pool in 1876
In 1896 the children's pool was added to the ladies pool
High diving boards were set up at ladies' pool by the Guernsey Swimming Club in 1925
The ladies' pool was extended in 1964 and the high diving boards were removed in 1970
In 1977 a proposal put to the States recommended the gents and horseshoe pools be abandoned due to the cost of maintenance - but it was voted down
In 2011 the cliff above La Vallette had to be stabilised twice to minimise the risk of rock falls
Storm damage led to the closures of all of the pools in February 2014, with the ladies' and children's pools reopening in June and July respectively
---