Group rescued from sea after boat sinks off Guernsey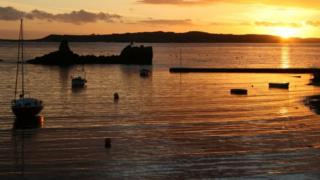 Four people have been rescued from the sea after spending about 30 minutes in the water after their vessel sank off the Guernsey coast.
The two men and two women held on to debris from the boat and did not have time to put on life jackets, said Vince Helmot, from Guernsey Coastguard.
Emergency services were alerted by members of the public after the vessel started to sink off Bordeaux Harbour at about 17:50 BST on Friday.
The group was rescued by lifeboat.
Mr Helmot said the "vessel sank very fast and the group did not have time to put on their life jackets".
"They must have spend about 30 minutes in the water holding on to debris. They were very lucky."
He said when they were rescued and returned to land they were "shocked and cold but not injured" and were taken to hospital.
It is not known why the 39ft (12m) vessel sank.