Plane strike on buzzard disrupts Guernsey flights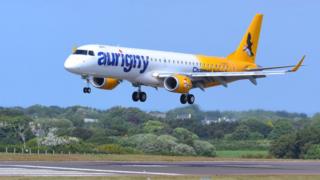 Flights have been disrupted after a plane hit a buzzard as it took off from Guernsey Airport.
Aurigny's Embraer jet hit the bird as it attempted to leave the airport for London Gatwick at 10:30 BST.
Engineers plan to repair the damaged left engine but flights to Gatwick have been altered or delayed while a charter aircraft is found.
Euan Mahy, from Aurigny, said the jet was expected to be grounded for up to three days.
"A bird struck the port engine, it's disturbed and dented a number of the fans, so the take off was aborted and no-one was injured.
"The problem now is the damage to the jet and our schedule."
The chartered aircraft is expected to arrive later on Saturday, Mr Mahy added.