Guernsey States approve 'realistic budget' for 2016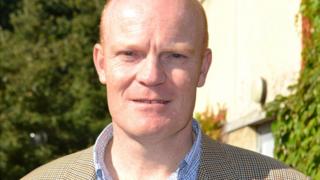 Approving extra money for Guernsey health services, raising corporate tax and ending some benefits leaves a "realistic budget" for 2016, according to the treasury and resources minister.
The budget, with a number of changes, was voted through by the States.
Gavin St Pier said the public needed "realistic expectations" of services.
He said: "[It] is a fair budget. It is a responsible budget. It is a balanced budget that has us living within our means."
An open cheque book is not the answer
Health Minister Paul Luxon said: "Services cannot continue to be delivered within the existing model here in Guernsey unless we are prepared to see continual budget bid increases and overspends year on year, as healthcare costs and demands continue to grow.
"Transformation and reform can be the only way forward for a sustainable model of delivery. It will be no easy task, but this States, and the next, and the one after that, along with the HSS [Health and Social Services] department staff, must tackle this conundrum."
---
Guernsey's 2016 Budget
Additional £8.2m for the health department budget
£382,600,000 budgeted across all States departments and committees
Duty introduced on production or importation of biodiesel
Rises in property tax
Introduce a £50,000 tax cap for Alderney residents for 10 years from 2016
Alcohol duty to be based on volume among changes to excise duty on tobacco and fuel
Removal of tax relief on let properties to be investigated
Rises in company income tax rates to 10% for custody services and 20% for income from the importation of the supply of hydrocarbon oil or gas
Retail companies with a taxable annual profit of £500,000 to be taxed at a higher rate of 20%
The cap on the amount paid out in mortgage tax relief for a main residence to fall until 2025 when it will end
Increase the standard charge, an alternative to paying Guernsey income tax on worldwide income for residents who mainly live somewhere else, from £27,500 to £30,000
No capital projects to be put forward until the 2017-2020 capital priorities have been decided, except the Alderney runway rehabilitation project
A review of the island's local housing market
The creation of a sports strategy by July 2017
---