Same-sex marriage gets Guernsey States approval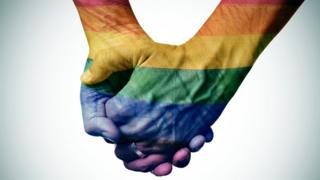 Same-sex marriage is set to be introduced in Guernsey after a vote by the island's government.
Two alternative options for introducing same-sex civil partnerships or bringing in a single legal form for all - Union Civile - were rejected.
The move to introduce same-sex marriage was approved 37-7.
It is not clear when the legislation, which will be voted on separately, will come back to the States or when the law will come into effect.
A Policy Council spokesman said it depends on the "priority given to the legislation" and time needed to draft it.
He said at the earliest this "would not be before 2017".
Ellie Jones, from the charity Liberate, said it was an historic day for Guernsey and that most of the comments in the States debate had been "extremely positive".
---
Same-sex marriages
---
Deputy Hunter Adam, who was one of those who proposed Union Civile, said: "Introduction of same-sex marriage at this time could be considered by some as a step too far."
He said the issue had raised "strong emotions" and had the potential to cause "division within the community".
Deputy David De Lisle, who suggested civil partnerships, said like England and Wales, the island should take it "one step at a time" to avoid creating a "divide in the community".
The motions were heavily defeated 4-40 and 7-37 respectively.
Chief Minister Jonathan Le Tocq said the Policy Council had considered all three options before deciding to propose same-sex marriage.
He said: "[It is] more likely to attain international recognition as it brings Guernsey into line with other neighbouring jurisdictions."
Deputy Le Tocq said it was a matter of "equality" and providing couples with the "same legal benefits and protections".
He described the current marriage law, which dates to 1919, as "highly and unnecessarily confusing, ambiguous in places and certainly ripe for reform irrespective of other issues".