Health department 'should help' Alderney GP after death probe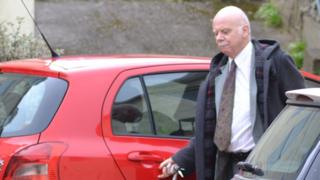 A doctor cleared of any wrongdoing over four deaths in Alderney should be helped to rebuild his medical practice, an island representative has said.
Dr Rory Lyons was unable to practise while the General Medical Council and Guernsey Police investigated. The cases were later dropped.
A recent report was critical of the Health and Social Services Department's (HSSD) handling of its investigation.
States member Louis Jean said it should now help the GP.
"What I think I'd like to see now is [the] HSSD assisting him in trying to put right some of what's gone wrong by helping him get his practice reopened and doing what they can to help him and the patients who have suffered so much anguish," he said.
The Policy Council of the States of Guernsey and the Policy and Finance Committee of the States of Alderney commissioned the report.
It concluded while health authorities acted swiftly to address concerns some key aspects were not properly considered.
'Trauma'
Fellow Alderney representative Graham McKinley called for those responsible for the mistakes with the investigation to be indentified.
HSSD Minister Deputy Paul Luxon apologised for his department's handling of Dr Lyons.
A joint statement from the policy council and finance committee, said: "The primary purpose of the review was to inform [us] as to how HSSD handled particular issues surrounding the clinical practice of Mr Lyons in Alderney, and not to seek to apportion blame."
Dr Lyons - one of four GPs on the island - said the last year had been a "trauma" and his patients' belief in him had provided "unstinted support".