Panama Papers: Crown dependencies defend reputations after leak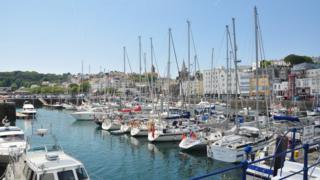 Authorities in Jersey, Guernsey and the Isle of Man have defended their reputation following a huge data leak exposing the world of offshore finance.
The UK Prime Minister is under pressure to stop British overseas territories and Crown dependencies enabling the rich to cut their tax bills.
The Panama Papers showed how a law firm helped the wealthy launder money, dodge sanctions and avoid tax.
Mossack Fonseca said it had operated beyond reproach for 40 years.
Guernsey and Jersey-based banks are named in the leaked documents.
The International Consortium of Investigative Journalists (ICIJ), which published the investigation, showed that 500 banks, their subsidiaries and branches had registered 15,600 shell companies with the law firm. Three of the biggest banks involved are based in the Channel Islands.
The Isle of Man government said it had put "robust defences" in place against corruption, tax evasion and money laundering and the island "was not a place where criminals could find a welcome".
A statement added: "We have a strong record of cooperation with international investigations and have provided effective access to overseas law enforcement and tax authorities over many years."
'Well regulated'
The Crown dependencies - like the overseas territories - have tax regimes designed to be internationally competitive.
But finance bodies in the islands have repeatedly rejected the term tax haven, claiming they are well regulated and transparent.
They have been keen to distance themselves from the overseas territories, including Cayman Islands and British Virgin Islands (BVI), because the Crown dependencies claim they are better regulated.
BVI is named more than 113,000 times in the documents, Jersey 39 and the Isle of Man eight. Guernsey is not listed in the top 21 names of jurisdictions cited, while the UK is named 148 times in the leak.
Guernsey Finance and Jersey Finance, which promote their island's financial industries, said the jurisdictions complied with international finance regulations.
But tax campaigner, Richard Murphy, claimed the dependencies were just as guilty as BVI for being regulated within their own boundaries but not internationally.
A Guernsey spokesman said they would "would welcome moves to improve transparency" in the global financial services industry.
Tax avoidance is normally legal, but questions have been raised about its morality. Managing director of a finance consultancy firm in the island, Will Morgan, said: "There's obviously a moral issue to all of this... but every jurisdiction is looking to balance its books. We're competing for global wealth."
Panama papers
Eleven million documents held by the Panama-based law firm Mossack Fonseca have been passed to German newspaper Sueddeutsche Zeitung, which then shared them with the International Consortium of Investigative Journalists. BBC Panorama and UK newspaper the Guardian are among 107 media organisations in 76 countries which have been analysing the documents. The BBC does not know the identity of the source
They show how the company has helped clients launder money, dodge sanctions and evade tax
Mossack Fonseca says it has operated beyond reproach for 40 years and never been accused or charged with criminal wrong-doing
Tricks of the trade: How assets are hidden and taxes evaded
Panama Papers: Full coverage; follow reaction on Twitter using #PanamaPapers; in the BBC News app, follow the tag "Panama Papers"
Watch Panorama on the BBC iPlayer (UK viewers only)