Guernsey GST 'off the table' says most senior politician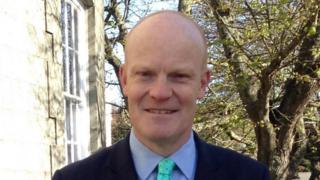 Guernsey's most senior politician has said goods and service tax (GST) will not be introduced in the island.
Deputy Gavin St Pier had previously supported the introduction of such a levy, which came into effect in Jersey in 2008 to charge islanders GST on most items.
The possible introduction of such a tax was one of the reasons behind a 2,000 people protest held in 2014.
Deputy St Pier said he would look at raising funds in other ways.
'Off the table'
He told BBC Radio Guernsey: "Four years ago I opposed GST as an additional tax.
"During the last term I supported it as part of a redistribution of tax, but the States firmly rejected that.
"I absolutely unequivocally accept that decision. GST is off the table."
Deputy St Pier, who was recently elected first president in the new States structure, said the "challenge" was to provide public services as "efficiently as possible" and "collect as little as we can".