Brexit talk 'damaging business morale' says Guernsey commerce president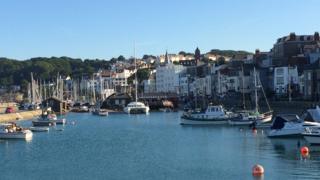 Brexit talk is to blame for a fall in business confidence in Guernsey, says the president of the island's chamber of commerce.
A survey found 46% of people felt "less" or "much less" confident about the island's economy in the next year.
Guernsey is not a member of the European Union and will have no part in the EU referendum.
Despite this, chamber president Tony Rowbotham said the referendum was causing uncertainty for companies.
The Business Trends Survey is released by the island's Chamber of Commerce every year and 69 businesses responded to it in 2016.
Only 12% of those surveyed felt more confident, while 42% said they had about the same level of confidence now as they did 12 months ago.
"People need to recognise how closely linked we are to both Europe and the world, and there is clearly disquiet in the European and the worldwide economies," Mr Rowbotham said.
"I think it's a huge area of uncertainty."
In 2012 53% of businesses said they were more confident in Guernsey's long term economy, but that has now fallen to 13%.
But parts of the island's finance sector have been more optimistic about the Brexit discussions.
The body that represents Guernsey's finance industry abroad has said the island "offers stability for international business", particularly Asian markets, "during a period of uncertainty".
Speaking in March, Guernsey Finance Chief Executive Dominic Wheatley said: "Guernsey's position with respect to the EU is very clear - we're a 'third country' now and we'd still be a 'third country' in the event of a 'Brexit'."