Queen birthday balloons plan scrapped after environmental row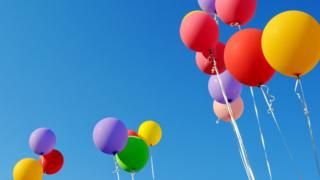 Plans for balloons to be released for the Queen's birthday have been scrapped after environmentalists complained about their potential impact on marine wildlife.
The balloons were due to be released in Guernsey as part of events celebrating the Queen's 90th birthday.
But an island warden, Richard Curtis, said he was "incensed" when he heard about the plans.
The St Peter Port Constables have withdrawn the plans.
Mr Curtis, who looks after Lihou island in Guernsey, a centre for conservation, said balloon waste had become a nuisance there.
"On a weekly basis, we see detritus from balloons and lanterns getting washed up, and I've seen gulls trying to regurgitate plastic.
"I've seen plastic and balloons involved in nests - I pick it up constantly.
"With the knowledge we have... We shouldn't be having balloon releases in this day and age."
St Peter Port Constable Jenny Tasker said: "We feel now that at this time it would be inappropriate to release these balloons.
"That will upset some people I know, but we feel that is the right decision."
Another parish politician, Rosie Henderson, described Mr Curtis's protest as "overdone".