Michael Beaumont: Seigneur of Sark dies aged 88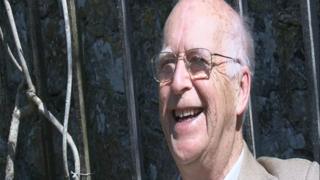 The 22nd Seigneur of Sark has died at the age of 88.
Michael Beaumont, a successful aircraft engineer, inherited the title from his grandmother, the Dame de Serk, Sibyl Hathaway, in 1974.
In 2001 he was appointed OBE for services to the Sark community.
The popular and traditionalist Seigneur clashed with the Barclay brothers, who bought the island of Brecqhou in 1993, over the payment of treizieme and the island's inheritance laws.
The pressure brought about by these events resulted in fundamental changes to Sark's feudal laws by 2009.
Many of the Seigneur's ancient rights and duties were revoked, including having the sole right to keep pigeons on the island.