Rescued 'Olivia' the turtle to be set free in Canaries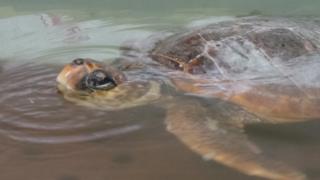 A loggerhead turtle which was found close to death on a beach in Guernsey is to be released back into the wild.
"Olivia" was found with a missing front flipper and was "emaciated and severely dehydrated" when she washed up on the island.
She has now recovered enough to be flown to Gran Canaria to be released.
Steve Byrne, manager at Guernsey Society for Prevention of Cruelty to Animals, said the turtle would "surely have died" if not for their help.
"She was so weak, dehydrated and emaciated. She could not even raise her head," he said.
"From what was a turtle taking potentially her last breaths... to now seeing her lively and active nature is a joy."
The turtle will be cared for at the Centro de Recuperacion de Fauna Silvestre in Las Palmas before being released.
Mr Byrne added: "We are hoping her story won't end upon her release in the Canaries. We are currently in talks with groups that may be able to help with a tracking device."
The last time a turtle was found in Guernsey's waters and returned to the wild was in 2003, when Myrtle the green turtle was also sent to Gran Canaria.