Guernsey developments 'must include' affordable homes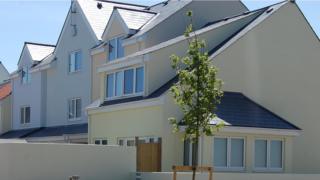 A commitment to building affordable homes has been included in a development plan for how land in Guernsey will be used in the future.
The draft document outlines the areas for development and conservation.
Any housing development of five or more properties will have to include an area for affordable housing.
The plan also includes a new area of biodiversity status for the island's foreshore, and some development opportunities in the rural south-west.
The Development and Planning Authority claimed the document provides "the right balance" between those who want to see more development on the island and those who want ecological conservation.
President of the Development and Planning Authority, Deputy John Gollop, said the plan "tries to balance commercial needs and economic regeneration with conservation, ecology and us as a society: conserving our quality of life."
The plan acknowledges that "housing affordability in Guernsey has been a long term issue".
"What the plan does is allocate areas for housing specifically," said Claire Barrett from Planning Services.
"Affordable housing will be brought forward through general housing market development... we want these sites to be developed."
| | |
| --- | --- |
| Housing development size | Proportion of which must be affordable |
| 5 or more dwellings but fewer than 10 dwellings | 20% of the developable part of the site |
| 10 or more dwellings but fewer than 15 dwellings | 22% of the developable part of the site |
| 15 or more dwellings but fewer than 20 dwellings | 24% of the developable part of the site |
| 20 or more dwellings but fewer than 25 dwellings | 26% of the developable part of the site |
| 25 or more dwellings but fewer than 30 dwellings | 28% of the developable part of the site |
| 30 or more dwellings | 30% of the developable part of the site |