Guernsey GSPCA 'now like an emergency service'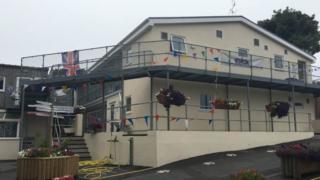 Rising public expectations of an animal welfare charity means the organisation now feels more like an emergency service, bosses say.
The GSPCA in Guernsey has grown significantly over the last five years and has 600 volunteers on its books - nearly 1% of the island's population.
But, it was recently been criticised for not removing a dead dolphin found in St Peter Port.
Manager Steve Byrne said he wanted to help more but resources are limited.
"Every day we do more, and the more we seem to do, the more we seem to be asked to do, and that proves extremely challenging for what is a charitable organisation," he said.
"We're extremely sorry that we weren't able to respond... [but] there's a huge amount of health and safety considerations".
The Environment and Infrastructure Committee, which had responsibility for removing the dolphin, apologised for not recovering the animal until Monday.
Limited powers
"If it had been alive, we would have been there in a shot," Mr Byrne added.
Despite working with emergency service, the GSPCA has no investigatory powers or ability to prosecute in cases of animal cruelty, unlike the RSPCA in England and Wales.
Yet there have been cases when the charity has been called by members of the public to suspected criminal incidents before the police have been notified. In July the GSPCA attended a seagull "stoned to death", which later prompted a police investigation. A 14 year-old boy has since been referred to the island's Children's Convenor.
A spokesman for law enforcement said: "'Where there are allegations of animal welfare offences, law enforcement officers investigate and as part of their inquiries may liaise with organisations such as the GSCPA where appropriate."
---
The GSPCA
Founding society set up on Valentine's Day 1873
Receives around £600,000 a year in donations
Cares for more than 3,000 animals annually
Employs 600 volunteers and around 20 paid staff
Sections of the GSPCA centre opened to the public in July 2016
Has cared for animals ranging from dogs and cats to lion cubs and turtles
Helped with a high-profile criminal investigation after 25 puppies being moved from Slovakia to the UK were intercepted on a ferry in Guernsey
---