Islander first to win Guernsey marathon in six years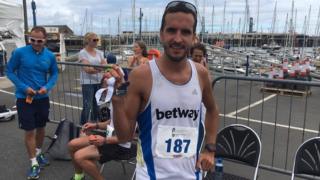 The Guernsey marathon has been won by an islander for the first time in six years.
Mike Wilesmith completed the course in 2 hours 42 minutes and 40 seconds, while Ulrike Maisch, from Germany, nabbed the silver medal with a time of 2 hours 56 minutes and 49 seconds.
Chris Carre was the last Guernsey-born competitor to take the gold in 2010.
More than 200 runners from 20 different countries competed in this year's marathon on Sunday.