Same-sex marriage 'could be in Guernsey by summer'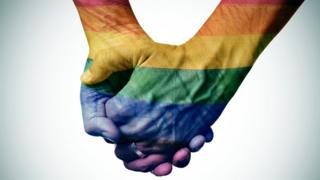 Same-sex couples could be able to marry in Guernsey by the summer, a States senior committee member says.
Employment and Social Security Committee Vice President Shane Langlois said the UK Privy Council had given Royal Assent to the local law, passed by the States in 2015.
It will go before the States for final approval before coming into effect.
However, Mr Langlois advised couples against making any arrangements until a commencement date was announced.
The States committed itself to introducing same-sex marriage more than a year ago, voting in December 2015, with support for the plans passing by 37 votes to seven.
Under the legislation, couples will be able to get married in a civil ceremony.