Sark Vineyards closes in face of alcohol tax 'attack'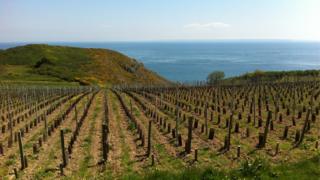 The owners of the only vineyard in Sark have announced they are closing the business.
Sark Vineyards says it has invested millions in the project since 2010 - but claims it is being "attacked" by an alcohol production tax.
The Sark government said it was sad to hear of job losses, while the Chamber of Commerce called it a "tragedy".
Sark is a part of the Channel Islands, and home to about 500 people - but has its own government and tax regime.
More on the closure of Sark Vineyards, and other news from around the Channel Islands
Sark Vineyards is owned by the reclusive billionaires Sir David and Sir Frederick Barclay. The twin brothers live on the neighbouring island of Brecqhou and own a number of businesses in Sark through Sark Estate Management.
In a statement the company said it "fails to see any future in Sark or its economy".
"The decision of 5 October 2016 to introduce taxation of alcohol production itself, amounting to a tax on one industry only on Sark, severely undermines the future financial viability of the business," the statement said.
The Government of Sark denies levying any taxes on the product, and says the cost of the licence to produce alcoholic products is intended to cover the cost of implementing the necessary laws.
Sark's Chamber of Commerce said the company was one of the biggest employers of resident labour on the island.
"The future potential losses to Sark and its business is huge," it said. "Our government must change its attitude towards inward investment."
The vineyard says it has about 28,000 bottles of sparkling wine in various stages of ageing, with the 2014 vintage still expected to hit the market in two years' time.