Guernsey ambulance worker 'failed' over 999 caller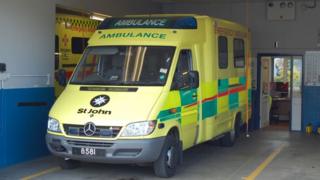 An ambulance station officer failed to follow up an aborted 999 call from a man who was later found dead, a disciplinary hearing has been told.
Groundsman Alan Hamilton, 65, phoned the St John Ambulance on Guernsey but the call was cut off.
Jason Garnham denies failing to send the police or an ambulance to the King George V playing fields.
The hearing was told there is "no suggestion" the alleged failings contributed to Mr Hamilton's death.
Mr Hamilton was found dead in the groundsman's hut at the playing fields at 07:40 the following day.
More on the hearing, and other news
Mr Garnham is also accused of failing to order the call-taker to properly document the call on 9 July 2014, the Health and Care Professions Council (HCPC) heard.
An inquest in 2015 found that Mr Hamilton died from heart disease, cardiac arrest and complications with diabetes.
'Stop panicking'
Matthew Kewley, representing the HCPC, said that ambulance control assistant Veronica Crocker attempted to call Mr Hamilton back twice but was unsuccessful.
She asked Mr Garnham if she should carry on trying to call but was told to "stop panicking", the hearing was told.
She was told to note the call in a control log used for inappropriate calls rather in a record of emergency calls, Mr Kewley said.
Paramedic John Le Noury said that Mr Garnham "was laughing and said jokingly that Ms Crocker was touting for business".
Mr Garnham had previously received an award for his persistence in tracing a 999 call from an elderly person who was lost on the cliffs, the hearing was told.
He did not attend the hearing in Southampton because of the cost of travelling from Guernsey and the "misery" that the case had caused him.
The hearing continues.