Missing man, Steven Corbet cause of death 'unascertained'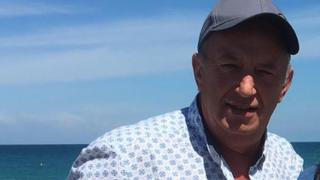 The cause of death of a man whose body was found by children in woodland six months after he went missing, remains unresolved, an inquest has concluded.
Steven Corbet, 59, was last seen on 27 June 2016, the day he was released from police custody after being held overnight.
His body was found on Christmas Eve near the pine forest in Guernsey.
At an inquest at Guernsey's Magistrates Court, the coroner, Judge Graeme McKerrell, recorded an open verdict.
More on Steven Corbet inquest and other Guernsey and Jersey stories
The inquest heard Home Office pathologist, Dr Russell Delaney, determined the cause of death as "unascertained".
His comments revealed traces of the anti-depressant drug mirtazapine were found in Mr Corbet's body.
An earlier hearing heard Mr Corbet was last seen in St Peter Port purchasing a rucksack, mobile phone, two bottles of vodka and a craft knife.
Dr Delaney's report found no other drugs were found, and he described the body as "extensively decomposed".
He said: "Due to the condition of the body it was not possible to ascertain the cause of death.
"There was no positive evidence of ante mortem injury but it is clearly not possible to entirely exclude an injury that damaged soft tissue only.
"In a man of this age and with past medical history it is possible that he died of natural causes. Other possibilities to consider include overdose."
Mr Corbet's body was identified using the serial numbers on a left knee replacement he had in 2012.