Herm Island 'puffin awareness' buoys launched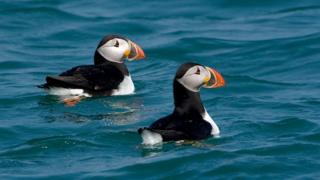 Bright yellow buoys designed to protect Guernsey's dwindling puffin population from speeding boats have been launched.
Two of the floating warning devices have appeared in an area off Herm Island - a breeding ground for the birds, which return to the same nest each year to lay a single egg.
Storms in 2014 saw an increase in winter puffin deaths, and a drop in numbers the following year.
The buoys are designed to remind water users the speed limit is six knots.
A spokesperson from the States of Guernsey Agriculture Countryside and Land Management Services said: "The buoys are located to the south east of Herm near Puffin Bay, where puffins can be seen rafting (resting on waves)".
They said the buoys were also there to remind boat and jet-ski users to "give this area a suitable berth to reduce disturbance of these charming endangered and iconic sea birds".