Condor ferry crash: Yacht damaged at St Peter Port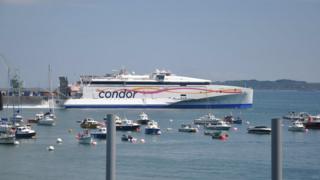 A ferry plagued by problems for more than a year has crashed into a pontoon at a harbour.
The Condor Liberation hit a mooring pontoon at St Peter Port harbour in Guernsey.
A yacht moored at the pontoon was damaged, but no passengers were injured in the incident.
The ferry service was stopped last year after safety concerns and broke down in December, leaving passengers stranded.
Harbourmaster Captain Chad Murray said "I can confirm that Condor Liberation made contact with the lay-by pontoon and a local vessel earlier today.
"The incident is under investigation and it is too early to speculate what might have happened. "
Condor said the departure from Guernsey to Poole was delayed by just under an hour, following the ship's arrival from Jersey.
A spokesman said an inspection of the ship's hull confirmed it had not been damaged and was fit to continue its journey.