Sark company registry prompts authorities' concern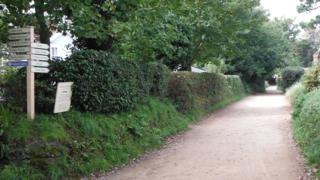 Authorities have questioned the legitimacy of a register of companies set up in Sark, an island with no company law.
The lack of a law means businesses cannot be "registered" there, Chief Pleas said in a statement.
However Dr Stanislovas Tomas, founder of the Sark Company Registry, said "there is no law" that prohibits it.
The Lithuanian lawyer wants to attract businesses to the corporation tax-free island.
Dr Tomas moved to the island in January and established the registry, which is listed as a non-profit organisation, on the Chief Pleas website.
"Some people think that it's a wonderful idea, some people think it's something strange, some people think it's fine to keep it as it was before," he said.
"There is a huge local interest in our operation, this is not something I'm imposing from abroad."
Dr Tomas wants to extend the tax benefits of being based in Sark to companies from around the world, like his own, who could be listed on the company registry.
"That's how the idea was born in fact," he said.
"I, as a non-registered company in Sark, met a number of obstacles because I'm not hiding money. I'm not hiding myself. I'm on the internet, I'm a blogger, I'm everywhere."
Sark Company Registry - what's the aim?
To list on the registry a company has to have a Sark resident as an employee, and a fully-disclosed beneficial, or ultimate, owner.
As there is no company law, there is also no corresponding corporate taxation in Sark.
Some Guernsey businesses also pay no corporation tax, but are required to have a registered office, and a director who is either an island resident or an agent, from a regulated provider.
Having an agent can be deemed a "wholly artificial" tax arrangement by EU member states, according to Dr Tomas.
The registry has come to the attention of regulator, the GFSC, whose remit covers the entire Bailiwick of Guernsey, including Sark.
It advised anyone considering using the registry's services to "seek legal advice" on the standing of listed entities.
The commission added it was "working with the Sark authorities on this matter".
Chief Pleas said a lack of local company law meant there can "be no company registered on Sark with legal personality".
Guernsey Police confirmed there is "no current criminal investigation" following the registry's establishment.