'Colossal wave' at Guernsey sea pools prompts inquiry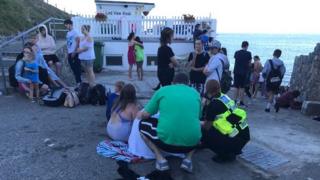 A "powerful" wave hit a group of young people at Guernsey's La Vallette bathing pools prompting an investigation by Condor Ferries.
Five teenagers were taken to hospital and others injured on Saturday evening when the wave dragged them under the water, throwing them against rocks.
Guernsey's harbourmaster said a report had been requested from Condor Ferries who had "vessels in the vicinity".
The company said it was treating the matter "extremely seriously".
For more on the wave, and other stories from across the Channel Islands.
Witnesses to what happened at about 18:00 BST described the swell as a "colossal wave" throwing people at the pools against railings in a "split second".
Concern has been raised by the public over safety at the pools and the speed at which boats pass by.
Helen King, whose daughter was at the pool, said: "I knew that there would be a swell and sometimes you do get a big wave, but why aren't there lifeguards there?
"Or some kind of siren to warn the children? That could have been so fatal."
Condor Ferries said it hoped to have a preliminary outcome of its investigation later.