First 'killer' hornet found in Sark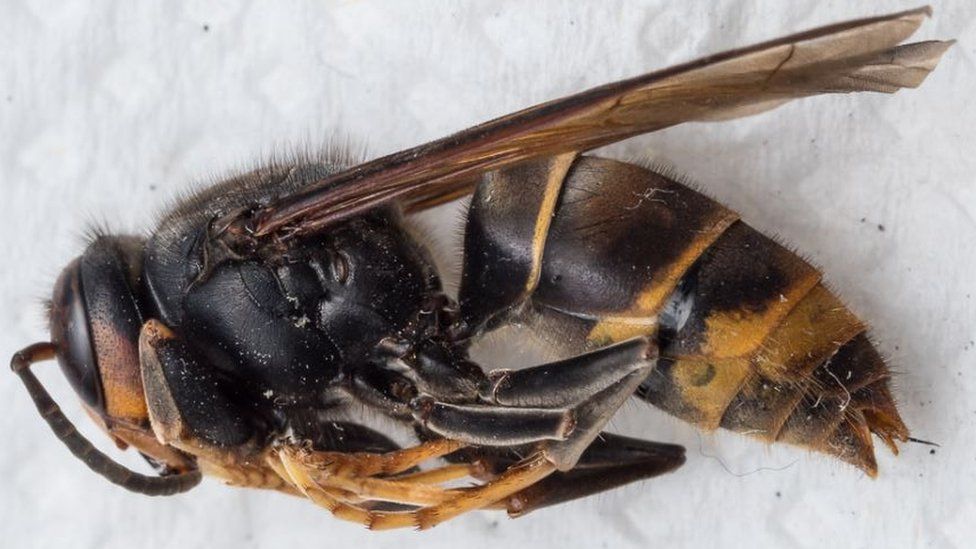 A hornet which can kill up to 50 bees a day has been found in Sark in the Channel Islands for the first time.
The Asian hornet has been positively identified by States of Guernsey experts and sent for genetic testing.
The public are advised to photograph and report the "aggressive predator" of honey bees if spotted.
The hornet found in Sark measured 22mm (just under 1in) and beekeepers in the Channel Islands have been notified.
Identifying an Asian hornet (Vespa velutina)
Vespa velutina queens are up to 3cm (1.2in) in length; workers up to 25mm (1in)
Entirely dark brown or black velvety body, bordered with a fine yellow band
Only one band on the abdomen: 4th abdominal segment almost entirely yellow/orange
Legs brown with yellow ends
Head black with an orange-yellow face
Source: National Bee Unit
The Guernsey Beekeeping Association has advised its members to increase vigilance and monitoring of bee hives through the use of hornet traps.
Anyone spotting what they believe to be Asian hornet is recommended to watch it long enough to determine the direction of travel as this may be helpful in finding a nest site.
As with wasps and bees, the hornets have a painful sting so people should avoid direct contact and never attempt to disturb a hornets' nest.
Related Internet Links
The BBC is not responsible for the content of external sites.