Guernsey midwives struck off over baby deaths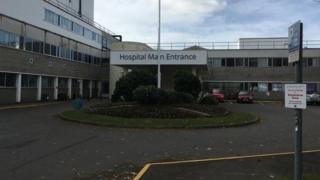 Two Guernsey midwives have been struck off the nursing register following the death of two babies.
Lisa Granville and Tuija Roussel had previously been found guilty of failures relating to the deaths at the island's Princess Elizabeth Hospital.
A third midwife, Antonia Manousaki, was suspended for a year by the Nursing and Midwifery Council (NMC).
Staff administered drugs "without prescriptions" or without speaking to consultants, a panel heard.
For more on the Guernsey midwives hearing, and more stories from across the Channel Islands.
The hearing began in January after the three midwives were accused of "failing to act" when monitors showed an infant - Baby A - dying in the womb in 2014.
A subsequent investigation into the death of Baby A revealed concerns about another child - Baby B - who died in September 2012.
The NMC panel concluded the death of Baby A on the Loveridge Ward "may have been prevented" had Granville adequately investigated the death of Baby B.
'Continuing risk'
The panel said Granville had "significantly departed" from acceptable nursing standards and her practice was deemed "impaired" on the grounds of public interest and public protection.
Panel chair Alexander Coleman said: "Ms Granville's failures and omissions exposed numerous patients to risk as well as negating and undermining risk management structures.
She was deemed "fundamentally incompatible with remaining on the register" and a "continuing risk to patients, mothers and babies".
Roussel was also struck off as the panel said her dishonesty "impeded a timely and proper investigation into the death of the first child".
However Ms Manousaki, the panel said, had "articulated clearly where she went wrong; why such misconduct was unacceptable in putting patients at risk and now what she would do differently".
They also took into account her junior position and her "full insight and remorse" concerning her misconduct.
Timeline of events:
September 2012 - Baby B dies at Princess Elizabeth Hospital
January 2014 - Baby A dies
October 2014 - Guernsey's Health and Social Services Department board resigns following a review of midwifery supervision
October 2014 - NMC carry out review of Loveridge maternity ward that raises "serious concerns" over the quality of care, it then publishes a report
November 2015 - NMC sees "considerable improvements" after Guernsey Health Department takes action on the critical report
December 2016 - NMC publishes "better working practices report"
January 2017 - Misconduct hearings begin against Granville, Roussel and Manousaki