Roy Dotrice: Guernsey actor dies aged 94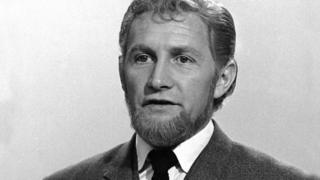 Actor Roy Dotrice, known for his role as Leopold Mozart in the Oscar-winning film Amadeus, has died aged 94.
His family said he died at his London home, surrounded by relatives.
A character actor, Guernsey-born Mr Dotrice gained new fans in recent years as the narrator of A Song of Ice and Fire, a series of novels that inspired TV hit Game of Thrones, which he also starred in.
In 2008, he was awarded an OBE for services to drama by the Queen.
A family statement said he "died peacefully on Monday October 16 in his London home surrounded by family, including his three daughters, grandchildren and great-grandson".
Record performance
Mr Dotrice joined the Royal Air Force and served during World War Two as a wireless operator and air gunner.
His plane was shot down and he was held as a prisoner of war, where his first taste for the theatre took root, performing concerts for his fellow inmates.
Mr Dotrice's narration of George R.R, Martin's A Song of Ice and Fire saw him awarded a place in the Guinness World Records in 2004 for the greatest number of characters voiced in an audio book - 224.
During his decades-long career as an actor, Mr Dotrice won accolades including a Tony award and a Bafta for best actor as Albert Haddock in the BBC adaptation of AP Herbert's Misleading Cases.
He also appeared in TV series Game of Thrones, Shaka Zulu, Mr And Mrs Smith and Life Begins, and films Eliminators, The Cutting Edge and Hellboy II: The Golden Army.
He was married to wife Kay for 60 years, until her death in 2007. They had three daughters together, all of whom became actresses.