Medic wrongly told pregnant woman her baby had died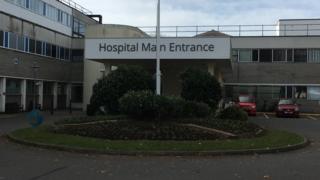 A radiographer who wrongly told a pregnant woman she had lost her baby has been suspended for three months.
Catherine Birnie made the mistake during a 12-week scan at the Princess Elizabeth Hospital in Guernsey.
The Health and Care Professions Council (HCPC) also heard she had failed to notice a baby with Down's syndrome had two holes in its heart.
The tribunal found her fitness to practice had been impaired and suspended her for three months.
More on radiographer tribunal and other Guernsey stories
The hearing in London was also told she had lied on an exam.
Ms Birnie admitted that in 2013 she submitted a foetal image she had not taken as part of a test to allow her to screen for Down's syndrome.
She told the panel she was advised to do so by another staff member.
"I did question her at the time over the submission of this image. There was no-one else who I could have spoken to about this," she said.
"I am horrified I allowed this to happen. I have never done anything dishonest in my personal or professional life."
After completing her training, she was able to conduct scans independently with no supervision, tuition or peer review.
In one scan, Mrs Birnie told a patient she had an enlarged ovary in-keeping with polycystic ovaries when this was not the case.
She had measured the patient's uterus instead of her ovary on this occasion, and prepared 17 other scans of poor quality during 2013 and 2014, the HCPC heard.
Last month a senior midwife at the hospital was struck off for failing to investigate the deaths of two babies.