Guernsey's WW1 sacrifice and bravery of RGLI remembered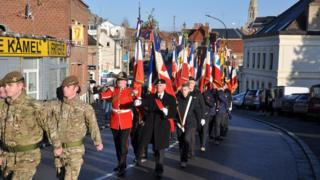 A memorial to the "bravery and sacrifice" of the Royal Guernsey Light Infantry (RGLI) has been unveiled in the French town of Masnieres.
It coincides with the 100th anniversary of the start of a sustained German attack that the unit defeated, but with the loss of nearly half its strength.
The defence allowed other British units to retreat and avoid being cut off.
"Les Rues Vertes was the end of a generation," said Guernsey's Lieutenant Governor Sir Ian Corder.
"Overall it is estimated that from an island population of just over 30,000, 8,000 fought in the Great War, of whom 1,470 never returned.
"Men of Guernsey, Alderney and Sark were proud to serve their sovereign - even if their mother tongue was Norman French. This was a British battalion like no other."
Les Rues Vertes
The Cambrai offensive started just before dawn on 20 November
Tanks deployed en masse for the first time smashed the German defences
By nightfall, British forces had penetrated five miles (8km), destroying two divisions and capturing 7,500 prisoners
The Royal Guernsey Light Infantry had seized Nine Wood (Bois Neuf), according to a battle account by the RGLI Charitable Trust
The enemy counterattack caused heavy tank losses and broke into the 29th Division's line
The RGLI was ordered south to hold Les Rues Vertes
They twice lost and retook the village amid heavy and vicious hand-to-hand fighting
The memorial marks the position held for two days by A Company
When they withdrew half the 1,000-strong unit was listed as killed, wounded or missing
The remains of many are still undiscovered
The Guernsey flag flying above the memorial will be replaced annually by a flag that has spent the previous year hanging next to the RGLI colours in Guernsey's Town Church.
Jean-Marie Labre, from the Commune of Masnieres, said: "I think it's the beginning of something that will last for a long time."