Refunds for strike-hit Condor Ferries passengers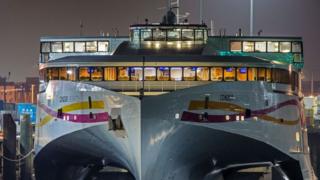 About 1,000 ferry passengers are to be offered a full refund or alternative sailings after strike action by French dock workers.
Three sailings from St Malo have been cancelled because of a second round of industrial action by stevedores at the French port.
It is the second weekend in a row sailings have been affected.
The boss of Condor Ferries says he is "dismayed" by the industrial action and shares passengers' disappointment.
Chief Executive Officer Paul Luxon said staff were working hard to help passengers re-plan their journeys.
It is possible Condor may allow the ferry to sail without any passengers to Jersey in order to pick up anyone wanting to travel to Guernsey.