Guernsey school to block apps on students' phones during day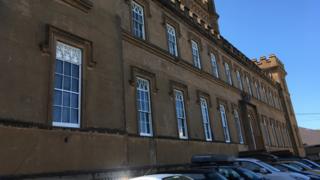 A school will trial the use of an app that blocks certain functions of students' phones during school hours.
Elizabeth College in Guernsey says it wants to limit what students can do on their mobile phones during break times, such as playing games.
The app, called FamilyTime, will be installed by parents of Year 7 students from next week.
Teaching union NASUWT say limiting smartphone access could reduce teacher "abuse" via filming or recording.
Dave Costen, director of digital learning at the independent boys school, said although students were not using phones during lessons, it had considered banning them in the past.
The app, he says is a "halfway house" and will limit students' usage between 08:25 and 16:00.
The app allows parents to set internet time limits and block apps from children - making them disappear between certain times.
It also allows parents to view a phone's call history, contacts and monitor location services, text messages and internet browsing history.
Mr Costen said parents were "entirely supportive" of the technology, but students had given it a "frosty reception".
Chris Keates, general secretary of the NASUWT, "welcomed" the move if it helped to minimise "inappropriate" use of smartphones in schools.
In their recent survey "parenting for a digital future", the London School of Economics found out of 2,032 parents, those with teenagers (13-17) were the least likely to use parental controls or apps "to block or monitor children's access to websites".
The UK Safer Internet Centre which has laid out guidelines on "appropriate filtering and monitoring" for schools, say although schools are obliged to ensure filtering, they should also ensure "over blocking" does not lead to "unreasonable restrictions" to online teaching and safeguarding.
The trial is due to start next week and, if successful, could be rolled out to new students in September 2018.