Guernsey's 'thinnest' rescue seal ready for release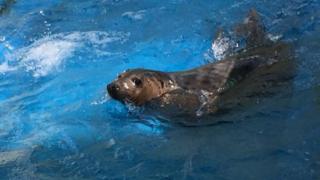 The thinnest grey seal ever rescued by Guernsey's animal charity is set to be released back into the wild.
Temperance was injured and severely malnourished when he was rescued by the GSPCA in November.
The seal has now tripled his weight and is eating more than 20 fish a day.
"From just 11kg (24lb) last November to the healthy and nearly-fat-enough animal to be released, really warms the heart of all the team at the GSPCA," manager Steve Byrne said.
The charity said it was "overjoyed" Temperance, who has also turned into the fastest swimming seal it has had, could be released in the next few weeks.