Islands 'should share' housing refugees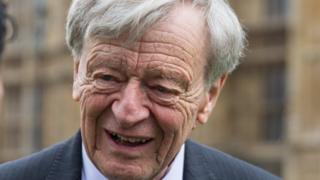 Britain's Crown Dependencies should reconsider housing refugees, according to a Labour peer.
Lord Alf Dubs, a former child refugee, has called on the Isle of Man, Jersey and Guernsey's governments to "share" the responsibility.
More than 11,000 Syrian refugees have been accepted by the UK since 2014 but none have been accepted by the islands.
The Home Office would "welcome" the assistance, Minister Baroness Williams said.
However, the island governments have re-iterated their position of not accepting refugees as part of the UK's Vulnerable Persons Relocation scheme.
They cite legal hurdles and also point to the "life-saving humanitarian aid" they have funded since the conflict in Syria began.
Lord Dubs was the architect of a 2016 scheme which saw hundreds of unaccompanied children come and live in the UK, although it was later scrapped.
On the islands taking refugees, he said: "I have a sense that there is support in the Crown Dependencies, certainly in the Isle of Man there's quite a lot of support.
"It's a matter of sharing responsibility.
"I think small as the territories are, Jersey and Guernsey are able, I think, to provide a bit of support.
"They are quite wealthy, they have the resources, and I think in the spirit of international cooperation they could do a little bit to help take some of the refugees - either children or families," he added.
On Monday 15 October, Lord Dubs was told the UK Government would "welcome" any offers from the dependencies to house refugees as part of UK schemes "now or in the future".