GcMAF: David Noakes 'no scientist', court hears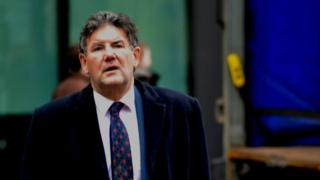 A businessman who sold an unproven cancer "cure" put his name to six papers on the product despite having no science background, a court has heard.
David Noakes said his staff wrote 33 papers on GcMAF, marketed as a cure for HIV, autism, and cancer.
His name appeared on six publications connected to his firm Immuno Biotech, Southwark Crown Court heard.
Noakes, 65, of Waldershare, Dover, Kent, will be sentenced this week after admitting a number of charges.
A Newton hearing, held in a bid to resolve disputed issues between the defence and prosecutors, is taking place.
Asked on Tuesday by his defence lawyer if he had a scientific background, Noakes replied "absolutely not".
Latest news and stories from the Channel Islands.
"My scientific staff reckon I have done the equivalent of two MSc's in the study of GcMAF and cancer," he said.
"I was delighted that my name was able to be put on there," Noakes said.
Earlier, the court heard from a doctor who suggested a lack of data underpinning claims about the effectiveness of GcMAF meant he was unable to help with its licensing.
Cancer Research UK has previously expressed doubts about research on GcMAF, saying several papers have been retracted after publication.
But Noakes said he was contacted by many customers around the globe who vouched for GcMAF's effectiveness.
In addition, 141 people in Guernsey who were provided the substance for free had experienced "absolutely stunning results," he added.
However, Noakes told the court he no longer claims GcMAF can cure cancer.
At an earlier hearing, he pleaded guilty to manufacturing, selling and supplying an unlicensed medicine, and to one count of money laundering.
Noakes and his estranged wife Loraine, who admitted selling the unlicensed substance, are due to be sentenced this week.