Cancer 'cure' boss David Noakes tells court 'It's all my fault'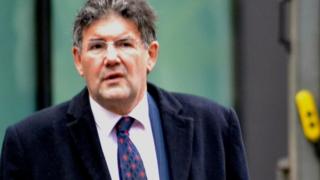 The founder of a company selling a so-called cancer cure has taken "full responsibility" for claims made on his website, a court has heard.
Immuno Biotech founder David Noakes, of Waldershare near Dover, Kent, told Southwark Crown Court he was constantly "toning down" the claims about GcMAF.
Noakes also admitted the site had wrongly claimed to have produced the substance to Good Manufacturing Practice (GMP) standards.
"I take full responsibility," he said.
Noakes, 65, pleaded guilty to charges of manufacturing, supplying and selling the unlicensed medicine and money laundering. He is expected to be sentenced next week.
The Guernsey-based company's website sold GcMAF, an unlicensed blood product which was marketed as a cure for autism, HIV and cancer.
Noakes told the court 10,000 people had received the product and his website was the main portal to his business between 2013 and 2016.
Claims made on the website were read back to Noakes by his defence lawyer, including that production standards at their Cambridge laboratory exceeded GMP.
"Yes, that's embarrassing now," Noakes replied.
"I employed experts and where those experts gave opinions, I generally took advantage of what they said.
"I took their advice, OK, imperfectly. The buck stops with me. It's all my fault."
The supply of GcMAF via Immuno Biotech was discovered after the Medicines and Healthcare Products Regulatory Agency raided a Cambridge laboratory in January 2015,
Earlier in this week's Newton hearing, Noakes was read other sections of the website by the prosecution.
He stood by claims GcMAF should be taken before tumour surgery as it could help spread the release of cancer cells, but said a claim he made about AIDS was removed because only six of 150 patients were successfully treated.