Sark electricity crisis: Chief Pleas plan power firm buy-out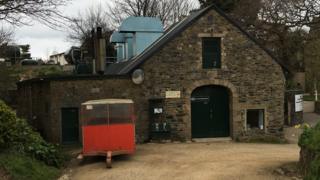 The Sark government has agreed to try to buy the island's power provider in a bid to avoid an island blackout.
Sark Electricity intends to turn off the supply to the island's 300 homes after being forced to lower prices.
At an extraordinary meeting, Chief Pleas agreed to value the utility company with a view to potentially purchasing it.
However, its owner David Gordon-Brown said he would still switch off the power supply at midnight on Friday.
The dispute began when an independent commissioner ruled islanders were paying too much for power and ordered Sark Electricity to lower its tariff to 52p/kWh.
That is still significantly higher than the UK average tariff of about 14p/kWh.
Sark Electricity, which imports diesel by ferry and burns it in four generators in an old coal story, said high oil prices meant it would lose £20,000 a month at the new price.
Mr Gordon-Brown, whose family has run the firm since the 1960s, said he had "no option" but to pull the plug at the end of November, prompting some islanders to start stockpiling water and buying generators.
Military aid
Although one politician voiced disappointment that Chief Pleas did not discuss a solution to guarantee the power was not switched off, the plans to look at a possible purchase were voted through unanimously.
About 500 people live on Sark and they have been warned to expect a "bit of a wartime mentality" if the island's electricity provider withdraws its services.
Conseiller Reg Guille said that if power was lost British military personnel could be brought in.
"We have been engaging with Mr Gordon-Brown and working hard not to have that switch off," he said.
"The power is in his hands, but we do have civil contingencies in place.
"We have applied to the United Kingdom for military aid to the civil authorities."
However, a spokesman for the Ministry of Defence said it had not received any applications for aid from Sark.