New warden wanted for Lihou Island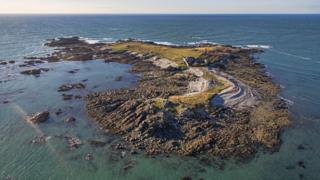 A tiny island which comes with its own natural swimming pool needs a new warden.
The successful applicant will have Lihou - about 500m off the west coast of Guernsey - to themselves.
The job offers the chance to live off grid, surrounded by the Atlantic Ocean, with a tractor for a company car.
Duties include maintaining the island's only house and looking after the nature reserve's wildlife.
The new warden would need to have "fresh ideas", be from Guernsey, and be looking for new challenges, according to the incumbent, Richard Curtis.
Lihou is only accessible by walking across a causeway at low tide, and can be cut off for days at a time.
The house was built in the 1960s but became derelict a few decades later, before being rebuilt and refurbished by the Lihou Charitable Trust in 2005.
Mr Curtis, who is moving to France, said it had been "a privilege" to do the job for 14 years.
The island is under the administration of nearby Guernsey, although the new warden will be employed by the trust.
The island has a rich history, with monks from Mont St Michel the earliest known settlers.
They built a monastery in the 12th Century - the remains of which can still be seen - as they tried to convert Guernsey's pagan community.
Lihou was also used for target practice by occupying German soldiers during World War Two, with more than 100 pieces of ordnance found buried beneath the soil in the last few decades.