Guernsey Election 2020: St Pier and Soulsby top poll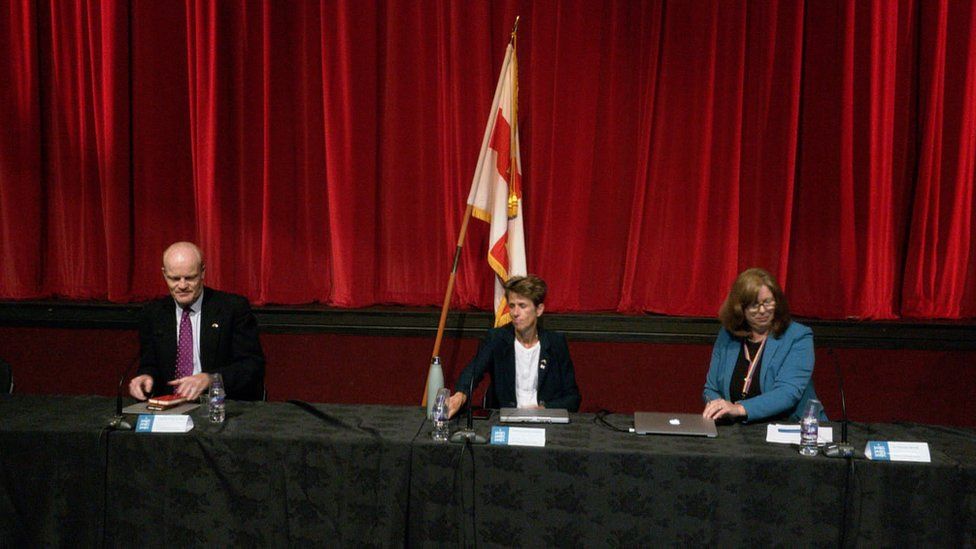 The two politicians behind Guernsey's response to the coronavirus pandemic topped the poll in the first island-wide general election.
President of the Policy and Resources Committee Gavin St Pier came in first with 13,925 votes, with Health and Social Care President Heidi Soulsby close behind with 12,782.
However, several heads of key committees lost their seats, including Home Affairs President Mary Lowe.
There were 119 candidates standing for the 38 seats as deputies in the States of Guernsey.
Mrs Lowe, the mother of the house, was joined in losing her seat by Barry Brehaut and Matt Fallaize - the presidents of the committees for environment and infrastructure, and education, sport and culture.
The lowest successful candidate was Deputy Carl Meerveld with 6,475 votes.
On a night with momentous change in senior political figures, 18 out of 29 deputies standing again were returned to their seats.
Other deputies who lost their seats were Jennifer Merrett, Sarah Hansmann Rouxel, Jane Stephens, Jeremy Smithies, Dawn Tindall, Mark Dorey, Rhian Tooley and Shane Langlois.
There was also a fall in the number of women elected, with eight now to sit in the new States, four fewer than the last term.
Two of the three political parties secured successful candidates, with The Guernsey Partnership of Independents returning 10 and The Guernsey Party six. The Alliance Party Guernsey failed to get any candidates elected.
The count, which took 16 hours, was delayed due to the historic turnout and a tenfold rise in postal ballots, with more than 21,000 people choosing to vote this way.
The new election system saw an 8% rise in turnout on 2016, with 24,647 registered voters casting their ballots, almost 80% of the 30,899 on the electoral roll.
Voters were allowed to select up to 38 candidates on their ballots, as the new system removed the previous seven electoral districts.
The election was originally scheduled to be held on the 17 June but was delayed due to the coronavirus pandemic.
This States term will last until June 2025 - eight months longer than the normal four years.
A review of the system is due to be carried out within a year of the election.
Related Internet Links
The BBC is not responsible for the content of external sites.