Covid: First Alderney outbreak leads to 'sleepless nights' for businesses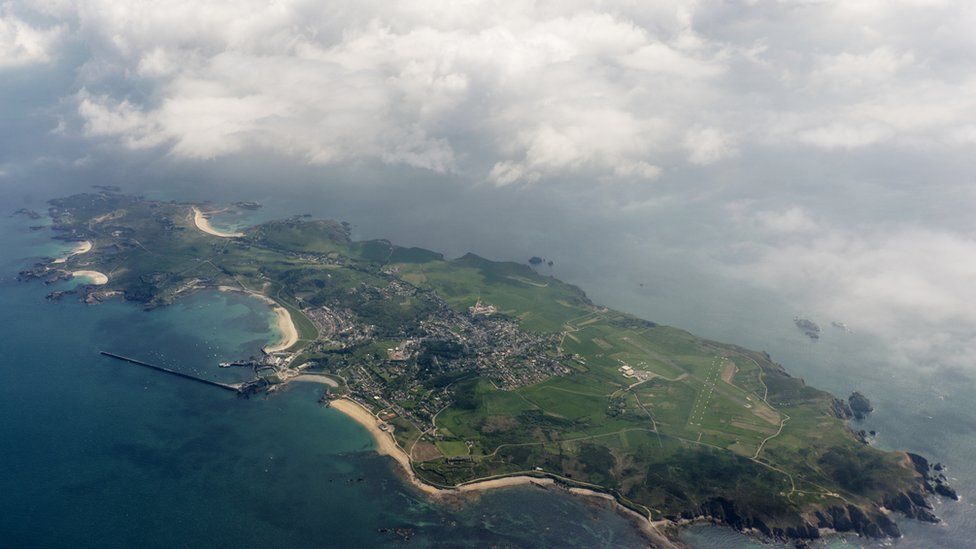 Alderney's first Covid-19 outbreak caused the Channel Island to "almost shut down", a hotel manager has said.
Before 16 July, Alderney experienced just one case - who was already self-isolating having arrived in the island.
The States of Alderney said it would assess the economic impact of the outbreak after the summer season.
Patrick Falla, from the Braye Beach Hotel, said it caused "sleepless nights" for businesses unable to operate with staff self-isolating.
He said: "That's what really hurt us, because everyone staff-wise was done and the whole island almost shut down."
Cases in the island peaked at 29 - which amounts to an infection rate of 1,450 per 100,000.
As part of the Bailiwick of Guernsey, which also includes Sark and Herm, Alderney's pandemic response has been overseen by the States of Guernsey.
Fully vaccinated people - with two weeks since their second dose - do not currently need to self-isolate, but are tested three times after being traced.
Those who have not had both jabs must isolate if contacted by Guernsey public health officials, who determine the period needed.
However, as the outbreak was initially linked to the island's school St Anne's, even fully vaccinated teachers were required to isolate while surge testing was carried out.
Mr Falla explained the impact was being felt in an "immediate decline" in new bookings, as well as cancellations.
"People still want to come, but they are being a bit more hesitant."
He emphasised Alderney was "still open for business" and the outbreak was subsiding.
"We need support to make sure the right measures are in place to encourage people to come and make sure they are safe when they do."
Since 1 July, fully vaccinated Common Travel Area residents - the UK, Jersey, Isle of Man and Republic of Ireland - can visit the bailiwick without self-isolating.
Previously, all visitors to the islands were required to test and self-isolate for up to two weeks.
Jade Maguire, who runs the Moorings cafe and the Georgian House pub, had to partially close her businesses after six staff members had to self-isolate.
She said: "It was a shock to us when the outbreak happened, with us not having Covid here at all."
Ms Maguire explained of her 35 staff, only one was fully vaccinated when the borders reopened.
"That wasn't any fault of our own, we all took the vaccine as early as we could, it was just the age of people who work in hospitality here."
Analysis - Edward Rowe, BBC reporter in Alderney
Alderney managed to avoid the brunt of the pandemic but when it hit, it hit hard.
Fewer than 30 cases in total doesn't seem like a lot, but on an island where everyone goes to the same pubs and shops, it can spread like wildfire.
The outbreak has caused fear and anxiety about letting people into the island - as well as the cancellation of Alderney Week for the first time in its 73-year history.
The long-term impact is less clear - the bailiwick is being told we need to learn to live with Covid and maybe, in that respect, Alderney is for once slightly ahead of the curve.
Tracey Farquhar-Beck, manager of The Blonde Hedgehog hotel, described the two weeks since the outbreak as an "absolute nightmare".
She explained one third of her staff were contact traced, leaving the remaining people "working seven days a week" to keep the business running.
Ms Farquar-Beck said the hotel had been full before the outbreak, but was now only operating at 50% capacity.
She said: "People have lost confidence in coming here."
However, Ms Farquar-Beck emphasised there was "lots of things still going on" in the island, despite the cancellation of Alderney week.
"We're still here, we're still operating and doing our best to make it fun for everyone."
The States of Alderney said it was currently "difficult to quantify" the economic impact of the Alderney Week cancellation, but it would conduct a "retrospective assessment of the summer season".
A spokesman said: "While some smaller events are taking place as we live responsibly with Covid-19, it is hard to imagine what it will be like this year without the full programme going ahead."
The States of Guernsey said businesses who find themselves significantly affected by self-isolation rules should get in contact, emphasising any such impact will be short term and all support claims will be made on a "case-by-case basis".
Related Internet Links
The BBC is not responsible for the content of external sites.