Alderney: Roman courtyard unearthed at WW2 bunker site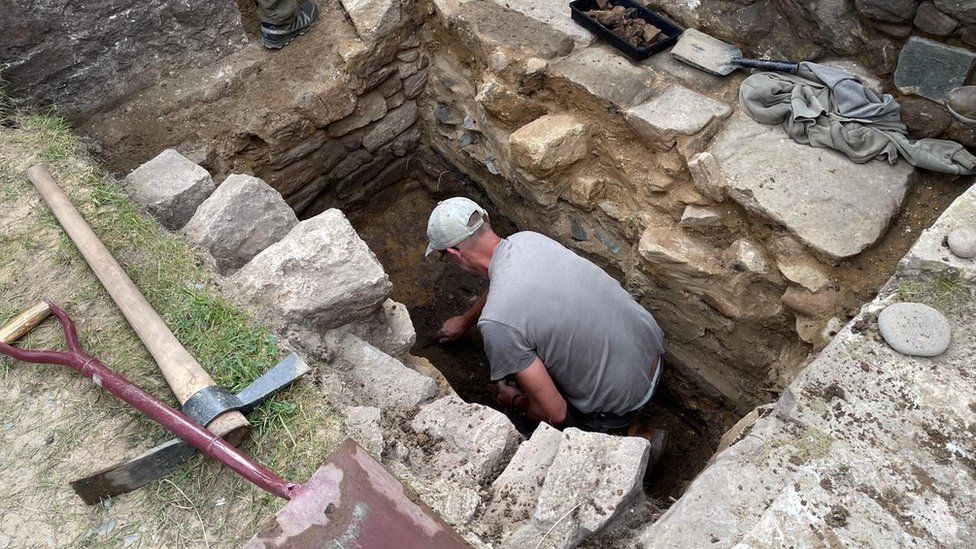 A Roman courtyard has been unearthed by archaeologists at the site of a World War Two bunker which was built inside the remains of a Roman tower.
Dr Jason Monaghan said the team had "finally discovered" the original courtyard after years of looking.
He said any evidence of the internal structures or floors of the Roman tower had been destroyed.
The Alderney Nunnery is thought to be the site of one of the best preserved Roman forts in the British Isles.
The site has been occupied for about 1,700 years, containing the remains of structures from the medieval, Tudor and Napoleonic eras built on top of each other.
Dr Monaghan, who is helping to excavate the site with Dig Alderney, said the courtyard consisted of a "double layer of flagstones embedded in clay and in one place also capped by mortar".
The remains of a further building built on top of the courtyard have also been found in trenches excavated by the archaeologists.
It is believed they could have formed part of the governor of Alderney's house in the Tudor period.
It is now thought the Roman fort was refurbished by the British in about 1793, after it was revealed the tower walls had been levelled-off.
Further work was carried out by the German military during World War Two.
Dr Monaghan said: "The Germans inserted their Type 501 bunker neatly into the tower ruins, using the north and south internal walls effectively as shuttering to pour their concrete.
"Unfortunately, they dug out the entire interior of the tower to do this, destroying any evidence for internal structures or floors."
Dig Alderney said it planned to return to the Alderney Nunnery in Spring 2022 to learn more about the medieval and Tudor history of the site.
Related Internet Links
The BBC is not responsible for the content of external sites.