Limited edition glass ornaments stolen from shop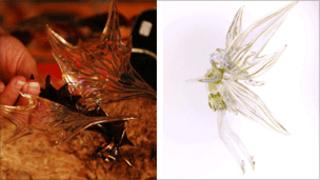 Police on the Isle of Man are looking for thieves who stole two hand blown glass ornaments from a shop in Ramsey.
The ornaments, one of a dragon and the other of a fairy, were taken from Affinity Crystals in Parliament Street sometime between 7 and 9 July.
The Isle of Man Constabulary said they are valuable items from a very limited edition
Police want to speak with anyone who may have seen the items or may have received either one as a gift.
Anyone with information is asked to contact Ramsey police station.