Clash over Douglas house fire sprinkler row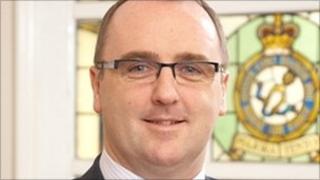 A row has broken out on the Isle of Man over the government's refusal to fund sprinklers in public sector housing.
Douglas Council wants the fire safety devices installed in new build homes - but believes the Department of Social Care should meet the cost.
Leader David Christian accused the government of "effectively putting funding before safety".
Martyn Quayle said his department took fire safety and construction quality "extremely seriously".
Douglas Borough Council voted to make it a policy to install sprinkler systems in new-build public sector housing.
But the government will only support installations required under building regulations, and told the council it would have to meet the costs of implementing its policy.
Mr Christian described the stance as "bitterly disappointing", adding that the authority "would not countenance rate-borne funding of sprinkler systems".
"Perhaps had more members of government attended the Isle of Man Fire and Rescue Service's exercise last year which demonstrated to graphic effect that sprinkler systems save lives, then the department would never have arrived at this short-sighted conclusion.
"The cost of installing sprinkler systems in new-build properties is relatively modest - in the region of £2,600 per unit - and I am saddened and appalled that the department is effectively putting funding before safety considerations."
The Department of Social Care has disputed the figures, claiming that installation and maintenance cost up to £6,000 per house.
Mr Quayle, social care minister, said: "I can assure Douglas Borough Council should any change in the building regulations take place my department is happy to revise our house building programme and costings accordingly.
"I note that Douglas Borough Council is seeking to compel my department to incur these substantial additional costs at a time when the taxpayer's money is under great pressure while making no offer to contribute to these costs.
"My department takes fire safety as well as the quality of construction of public sector housing extremely seriously."