Campaign to stop railway vandals in the Isle of Man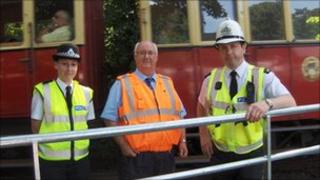 Police on the Isle of Man are increasing patrols on railway lines after a spate of vandalism in Douglas.
Scaffolding poles and a wheelbarrow were left on the track near Hills Meadow industrial estate.
Children were also spotted by a train driver throwing stones at a moving train.
The police said they were concerned objects dumped on the lines could cause a crash and warned offenders would be prosecuted.
Chief engineer Peter Maddocks said people should not underestimate how dangerous the railways could be.
"Unfortunately, we frequently see trespassers on the lines, using it as a pathway or taking a short cut.
"The safety of children and trespassers is of great concern as well as the risk of injury to our passengers and staff."
He added: "A full train weighs up to 150 tonnes. They have a basic Victorian braking system so people should not under estimate how long it takes to stop."
People convicted of trespassing on the railway could be fined up to £2,500. Incidents of stone throwing or leaving debris on the lines would be considered criminal damage, police said.
Pc Rob Lewis said: "Fortunately the recent incident of dumping scaffolding on the line was spotted by an observant driver who was able to stop in time.
"The concern is the potential injury to drivers and passengers if this illegal activity continues and the train is brought to a sudden stop."
Police are appealing to parents to check where their children are playing.