Humpback whale sighting off Manx coast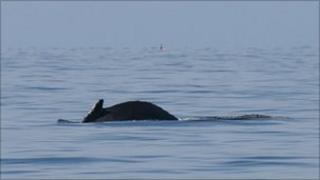 A rare sighting of a humpback whale has been recorded off the Isle of Man coast.
The endangered species has been photographed by Manx marine conservationists for the first time in five years six miles off Peel.
The mammal is more commonly seen off the west coast of Ireland and northern Scotland as it migrates from Iceland to the breeding waters of North Africa.
Manx Whale and Dolphin Watch said sightings were "rare" in the Irish sea.
Distinctive markings
A photographer aboard a conservation vessel spotted the mammal.
Spokeswoman Eleanor Stone said: "This humpback whale is possibly the same individual that has been seen off Rathlin Island and Dublin over the last couple of weeks, although this cannot be confirmed.
"They usually bypass the Irish sea on their way to Africa, but this individual has obviously strayed in and is enjoying the detour.
"If anyone is out on the water and sees a humpback whale, you can report it to the Manx Whale and Dolphin Watch website.
"If you do come across this magnificent animal, respect its space by maintaining a distance of 100 metres away and if possible please try to photograph the animal, especially if it raises its tail flukes out of the water.
"The underside of the tail has distinctive white markings which, along with the shape and nicks out of the trailing edge, are unique to each individual."