Health warning for pregnant women in Isle of Man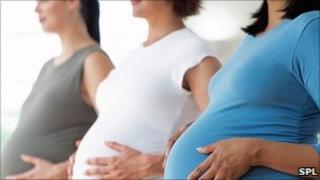 A leading Isle of Man doctor has added his backing to a call for women to retain a healthy weight before and during pregnancy.
The UK's health watchdog NICE issued new guidelines encouraging people not to eat for two once they conceive.
It said obesity levels among pregnant women have reached epidemic levels, risking the health of their babies.
Manx public health consultant Paul Emerson said expectant mothers should eat as normal and exercise regularly.
"There are really no risks at all to mums who are pregnant doing moderate exercise, such as walking and swimming," he said.
"We don't advocate rigorous exercise around after 20 weeks in pregnancy.
"Certainly they should not be running because there are risks to the ankles and other parts of the anatomy."